Welcome to the Grand Ledge Opera House
The historic Grand Ledge Opera House is the perfect location for weddings, receptions, holiday parties, special banquets, balls, reunions, business meetings, with ample free parking.
We are located in downtown Grand Ledge alongside the Grand River. Our office hours are Monday through Friday from 9 am to 5 pm. Evening and weekend tours can be arranged by special appointment.
121 South Bridge Street
Grand Ledge, MI 48837
Phone: (517) 627-1443
Fax: (517) 627-5006
Email: gloh@gloperahouse.com
Corporate & Private Events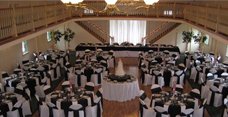 The Grand Ledge Opera House is located close to Lansing and the state Capitol, but set on spacious and serene grounds along the Grand River. With a total of 6,000 sq. ft. of meeting space divided between three rooms, our charming downtown location provides a friendly backdrop for your corporate meetings, lectures, annual dinners and non-profit fundraisers.

Concerts & Music
Our monthly concerts include a variety of local and area musicians in addition to some national and international performers. In the past we have showcased Bob Milne, a renowned ragtime pianist and John Two-Hawks, an Oscar nominated Native American flute player. We are home to the 1928 Barton Theater Organ with four concerts each year.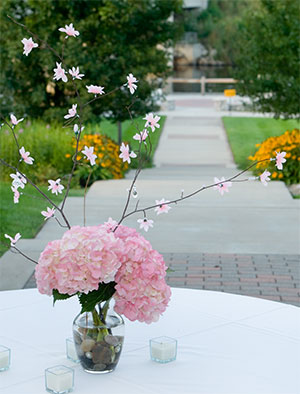 Specials
The Bridal Show at the Opera House will be February 19, 2017
Posted December 01, 2016
The Grand Ledge Opera House is proud to present its 14th Annual Bridal Show on February 19, 2017 from Noon to 3 pm. Attendees have the opportunity to view the elegant Grand Ledge Opera House as well as speak with some of Mid-Michigan's finest wedding vendors. Displays will be in the Grand Hall Ballroom and the Terrace Level Room and include Cakes, Catering, Ceremony Locations, DJ's, Decorators, Florists, Guest Accommodations, Ceremony Officiants, Photographers, Tuxedos, Beauty Solutions and more! Food samples will be available from the area's finest caterers and bakers. Many vendors will be offering one-of-a-kind show specials. The Bridal Show is open to the public. Admission is $5 each. The Grand Ledge Opera House is located at 121 South Bridge Street in downtown Grand Ledge. For more information please contact the Grand Ledge Opera House at 517-627-1443 or email at gloh@gloperahouse.com.
Website Designed by Vieth Consulting